Archaeological conservation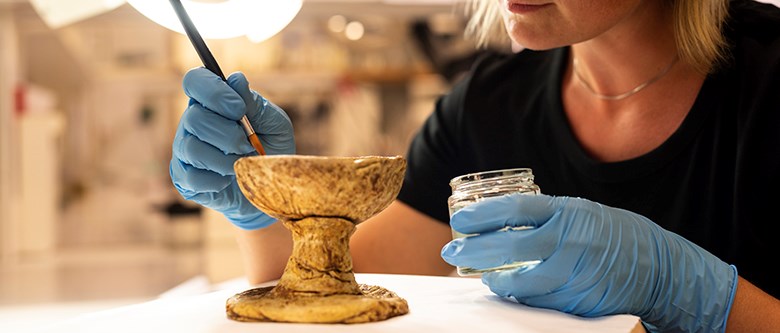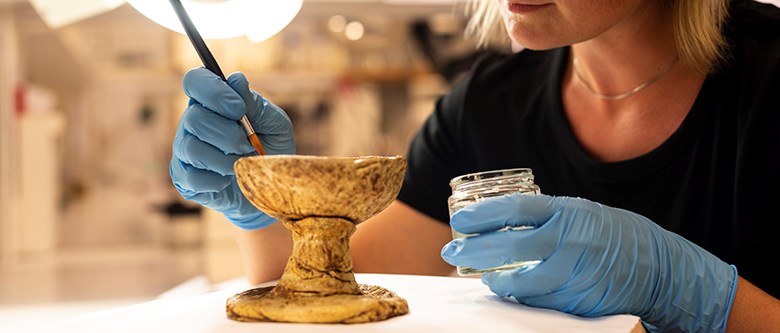 Finds can be made from a variety of different materials such as metal, wood, stone, leather, fabric and bones, in an almost unlimited number of combinations. The material is often in extremely poor condition and very fragile.
A large part of archaeological conservation consists of gently bringing out the original surfaces and forms of the find in order to understand them better: what kind of objects are they, what materials are they made of and what techniques were used to manufacture them? Such information can help to date the find and the context as well as giving a better understanding of the epoch and the society which produced the objects.
New knowledge and conservation
How a find is cleaned depends on the material which it is made of and how decayed it is. Relatively stable wooden objects are simply cleaned with running water, while corroded metal objects need to be treated mechanically and sometimes chemically to reach the hopefully preserved original surface.
The next step is to minimise any continued decay. Here too, needs and methods vary depending on the material and how decayed it is. Harmful salts absorbed over the years must be washed out or inhibited to prevent metal finds from corroding; decayed and weakened organic materials need to be stabilised to cope with the drying process, and so on. Finally, the parts are assembled and packed so that they are not damaged in transport or in storage.
Temporary storage can save finds
Archaeological materials may be dry, damp or wet. Waterlogged finds come mainly from underwater sites, but also from wet environments on land. The material in finds is generally very decayed and very fragile, requiring careful handling and immediate conservation actions. The chemical processes of breakdown, which usually accelerate when materials are brought to the surface, can destroy archaeological source materials. This is partly due to an increase in available oxygen and partly due to fluctuating humidity.
Archaeological excavations often give rise to many finds that must be taken care of. It is important that the finds are stored in circumstances similar to those where they were found after they are taken up and before they are preserved. Damp or wet organic material that is allowed to dry under uncontrolled conditions may deform and crack. Iron objects that are allowed to dry before conservation may become more difficult to treat, which increases the total working time and costs. Protect your materials – use temporary storage.
Facilities with equipment
- analysis, X-ray and vacuum freeze drying
In our facilities we have apparatus and equipment to examine and treat most types of archaeological finds. These include a large vacuum freeze dryer for the conservation and stabilisation of organic material saturated with water, a traverse and other lifting equipment for handling large objects and a microblaster for cleaning metals.
Different types of microscope and x-ray equipment help us to identify objects and materials. We carry out:
X-ray analysis
Wood identification
Metal analysis
Textile fibre analysis
Manufacturing techniques
Contact us
Sara Gainsford, +46700-85 28 98, sara.gainsford@vgregion.se
Inger Nyström Godfrey, +4610-441 43 33, inger.nystrom@vgregion.se
Ebba Phillips, +4610-441 43 36, ebba.phillips@vgregion.se
Madelene Skogbert, +46739-62 45 35, madelene.skogbert@vgregion.se
Andreas Berndt +4610-441 43 32, andreas.berndt@vgregion.se
Vivian Smits, vivian.smits@vgregion.se
Updated: 2020-10-14 13:25
Do you have a point of view or ask about the website?
---