Conservation of painted objects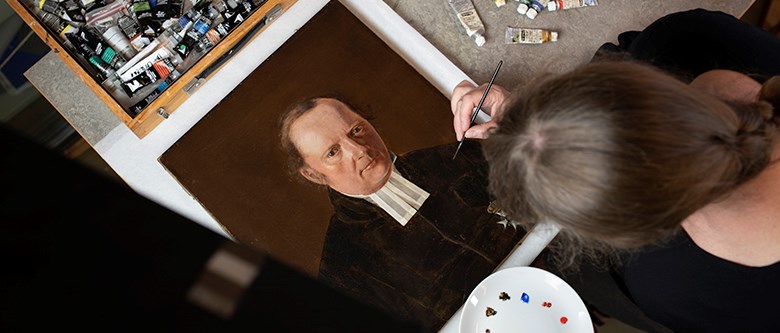 There are many different objects that are painted. Examples include pictures, furniture and handicraft products, wall paintings or fixed interiors in churches.
Damage
Damage to painted objects may have many different origins, often in combination with each other. Supporting structures that have been painted, such as canvas, wood or other material, are affected by fluctuations in the air temperature and humidity around the object. This sometimes causes the paint to crack or peel. In the worst case, paint may fall off. Poor mounting can accelerate this process. Air pollution and dirt, bright light and heat are all contributing factors. Mechanical damage may occur during storage or transport.
Care
In all cases, measures taken by conservators are as small as possible. Certain objects only require cleaning, while others need more extensive restoration that may involve building up and retouching damaged parts. The extent of the measures taken is determined by the object's artistic value, financial value, historical value, sentimental value, future use and the owner's wishes, among other things. Close dialogue with the owner is essential.
Think twice before acting
To avoid any damage occurring, preventive work should be carried out. Studio Västsvensk Konservering can give you advice on how to do this. On the basis of a simple examination or a risk assessment, we can provide tips on mounting or hanging. A cable may be better than string, which often breaks; canvas may need stretching, and so on.
Care and maintenance plans are mainly drawn up for church artefacts or large art collections. This means that a conservator make an in situ assessment of the objects' status and checks the interior climate and security factors. Measures are then proposed to minimise the risk of any damage and the costs for conservation actions. This is a very wise investment for the future.
Please feel welcome to contact us.
Ann-Marie Mild
Office: +4610 - 441 43 40 Cell phone: +46730 - 669 877
ann-marie.mild@vgregion.se
Updated: 2020-10-14 13:25
Do you have a point of view or ask about the website?
---