Conservation of stone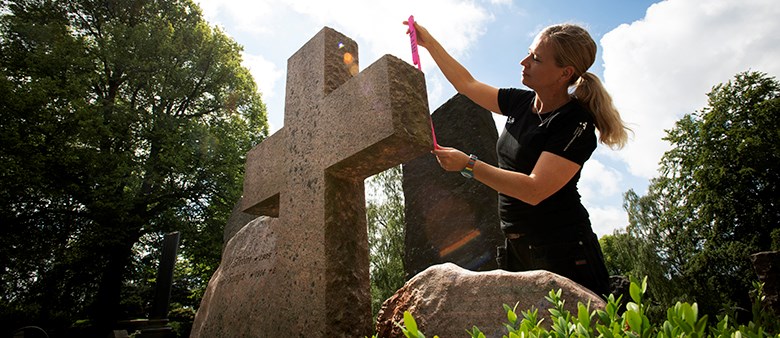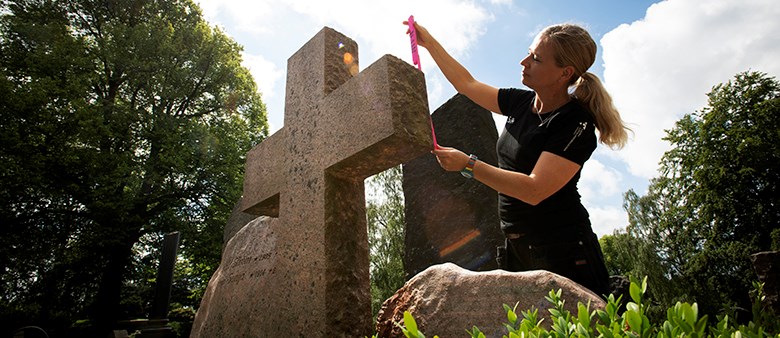 Our stone conservator is an expert on stone and related materials such as concrete, plaster, ceramics and glass. We clean and conserve sculptures, gravestones, architectural stone, mosaics and ancient rock carvings. The work is carried out either in situ or in our large studio.
Sensitive locations
Even something as hard and apparently durable as stone needs to be conserved. Stone objects located outdoors are affected by our harsh climate, which contributes to the process of decay. Small cracks filled with rain water can quickly be enlarged when the temperature drops below zero and the stone is cracked by ice formation. Aerial pollutants also damage stone. Lime-based stone types are particularly affected by contact with airborne sulphur, and the surface is converted into plaster over time. Lichens are common on stone and are part of the decay process.
Clean, seal, repair
We clean and conserve sculptures, gravestones, architectural stone and other ceramic materials outdoors such as mosaics or render. We examine and draw up an action plan based on the extent of the damage and the condition of the material. Conservation measures include preventive repairs (cracks are sealed to prevent water from entering), consolidation, desalting, re-jointing or replacement of materials. The replacement of corroded anchorage studs of steel or iron with new stainless steel is another possible measure. We alternate field work with work in the studio.
Inventories and management plans
What condition is your stone object in? We draw up inventories, action programmes and care and maintenance plans for all types of objects and buildings, public art or ancient monuments, such as rune stones and rock carvings. Read more about this area under Collection Management.
Carin Pettersson
Office:+4610 - 441 43 42
carin.ma.pettersson@vgregion.se
Updated: 2020-10-14 13:25
Do you have a point of view or ask about the website?
---