Conservation of textiles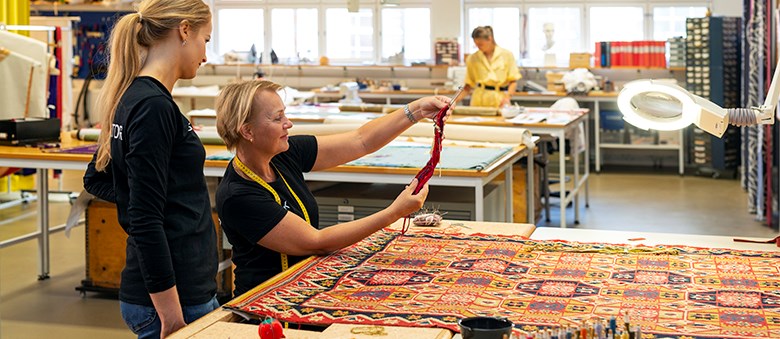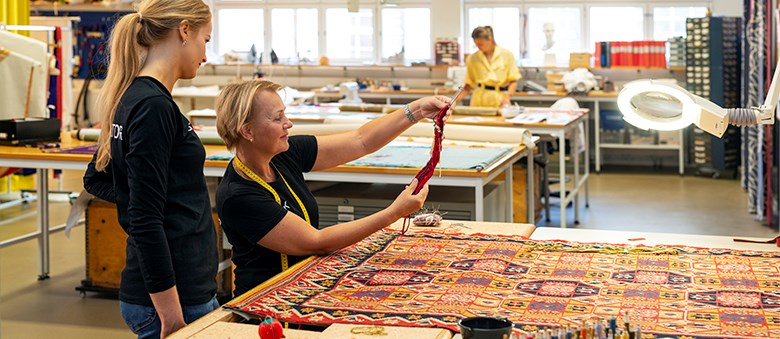 Studio Västsvensk Konservering textile conservators work with many different kinds of textiles: costumes and cultural-historical textiles, textile art, archaeological textiles and church textiles. Textiles are made from different materials, but they are all sensitive to and easily damaged by damp, heat, light, dirt, pests, poor storage and handling.
Original and cultural-historical value
Generally speaking, conservators make the smallest possible changes to objects so that they retain their original material and character. Every measure taken must be justifiable.
All objects are examined individually to identify the material, its structure and the type of damage to determine the correct treatment. It is also important to review the environment in which the object will be kept. Return textiles to poor environments only means that the object will soon be damaged again.
Simple measures can protect against damage
Textiles can break if they are hung wrongly or are folded over a long period of time. If you own delicate textiles, remember to protect them with acid-free materials as a protective cover. A simple way to do this is to keep objects in old, freshly washed sheets. Don't forget to look through wardrobes and storage space regularly and clean out dust, which can quickly become a breeding ground for harmful insects.
Preparation before washing
Objects may need to be taken apart to some extent before being washed. Different materials require different treatment. Before an object can be washed in water, the various components must be tested so that they do not bleed dyes. Small threads are taken from less important places on the textile, such as hems or the back of embroidery. The threads are then soaked in a washing solution and allowed to dry slowly. It is mainly during the drying process that dyes can bleed, and this is the critical part of water washing. Afterwards we can reflect on the outcome and decide whether it is reasonable to wash the object. Sometimes textiles are washed despite certain colours bleeding, but with some extra precautions taken prior to washing them.
Washing
The purpose of washing is not to make the object as clean and fresh as when it was new. It is mainly to remove harmful substances and extend the »life expectancy« of the textile. Old objects convey history and you do not want to remove all the marks and wear - they are the patina.
If we choose to wash an object, a special surfactant is used – a detergent without any additives that suits specific materials and objects. The work done by hand using a special washing table, limited processing and the right temperature so that a delicate object is not damaged by washing in water.
Removing stains
Sometimes stain removal is done prior to a wash, or separately without any washing afterwards. This is carried out to neutralise and remove any harmful substances, but on church textiles it is to make them look dignified in the ceremony, above all.
Damage repair
Sewing conservation is used to attach any loose parts so that nothing original disappears. We try to use materials and stitches to make an invisible repair, at least from a distance, but it should be possible to see any changes made on close examination. All extra materials and stitches must be added so that they can be removed if desired.
Hanging textiles
Textiles can be damaged by hanging them wrongly, which can be seen in tears and deformations caused by their own weight. To avoid damage to a textile by hanging, supporting stitches and suspension devices are used to spread the weight over a larger area. If an object is very fragile it should not be stored hanging; mount it in a different way instead, such as flat or sloping, either for storage or exhibition.
Reference examples
Are you interested in knowing more about different projects that we have worked with? At the bottom of the page you'll find several examples where Studio Västsvensk Konservering has been involved in saving beautiful, important textiles.
You are welcome to contact us!
Lotti Benjaminson, +4610-441 43 37, lotti.benjaminson@vgregion.se
Heidi Åberg Berthelsen, +4610-441 43 34, heidi.aberg.berthelsen@vgregion.se Tjänstledig till och med 31 december 2017
Kerstin Ljungkvist, +4610-441 43 28, kerstin.ljungkvist@vgregion.se

Anne Marie Ryding, +4610-441 43 38, anne-marie.ryding@vgregion.se
Ellinor Gunnarsson, +4610-441 43 29, ellinor.gunnarsson@vgregion.se
Katarina Olars, +4610-441 43 41, katarina.olars@vgregion.se
Updated: 2020-10-14 13:25
Do you have a point of view or ask about the website?
---