Conservation of wood and furniture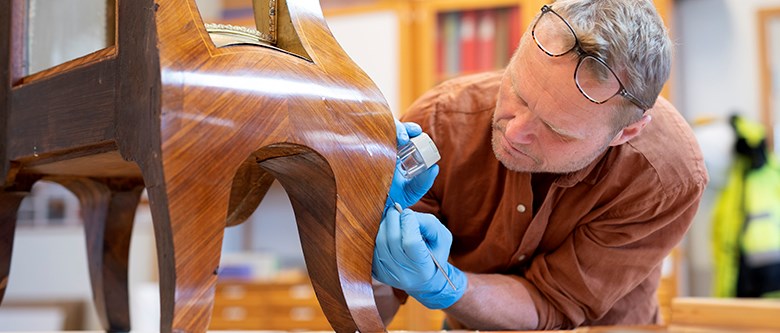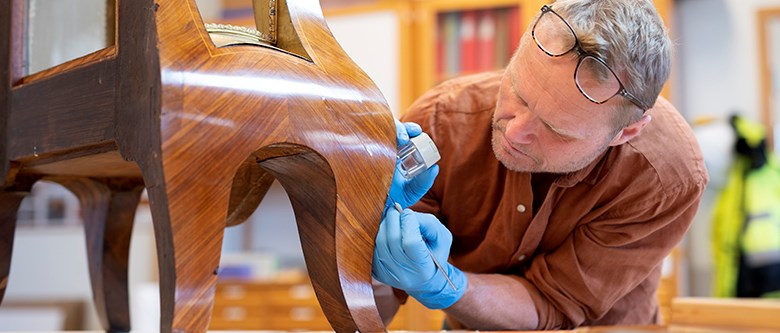 The risk of decay and damage to wood is significantly reduced if you have good knowledge of the material and influences from the surrounding environment. Wood and furniture conservators at Studio Västsvensk Konservering work with furniture, interiors, building details, public art and cultural-historical objects in both private and public collections.
Wood - used throughout history
Our wood and furniture conservators take care of handicraft products, wooden objects, interiors and furniture. We bring wooden objects and furniture to our premises, but we also work with applied or preventive conservation at our clients' premises.
Bulging veneers become smooth again
Damp, sunlight and pests are often the cause of damage to wood and wooden surfaces. Structures also become unstable in the joints or deformed for different reasons. Damage often appears in the form of discolouration or peeling of surface layers. Sometimes the decorative layer of veneer or a moulding has loosened or become chipped, or wicker seats have broken. The conservator needs to examine the object to determine what measures are suitable and what is possible. Conservation work is often a matter of stabilising the material and structure. We clean or restore surfaces so that the object or environment looks genuine, with respect for its age and history.
Knowledge allows better decisions
Studio Västsvensk Konservering has a thorough knowledge of materials and the history of different objects. We carry out analyses of wood types and finishes in order to take the right measures, as well as for documentation purposes. We also make investigations of the presence of damp, mould or pests in historical surroundings in the correct manner for antiques. These inspections and documentation of environments give owners and administrators a good status overview, which helps to decide priorities for necessary measures. We can draw up an action programme and maintenance instructions if required.
Avoid damage – act in advance!
It is important to store, maintain and manage objects and environments carefully to avoid possible damage. A large part of preventive conservation is spreading information about how materials decay and how damage can be avoided.
If you should have an emergency situation, we can quickly help with cleaning and freezing. Do you have any questions about damage or cleaning, or do you want to order a tailor-made care and maintenance plan? Please feel free to contact us.
Morgan Denlert
+4610-441 43 30, +46705-75 51 82
morgan.denlert@vgregion.se
Updated: 2020-10-14 13:25
Do you have a point of view or ask about the website?
---