Religious cultural heritage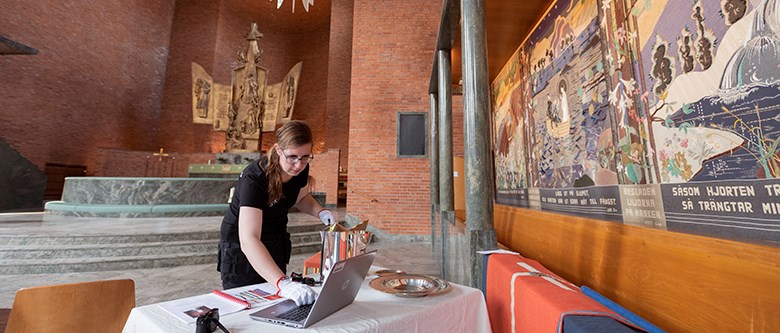 Studio Västsvensk Konservering has long experience of working with religious cultural heritage issues: inventories, care and maintenance plans, action programmes and the conservation of different types of church artefacts.
The management of buildings, objects and graveyards belonging to the Church of Sweden requires special procedures, since all work with the cultural heritage of the church is protected by law.
Studio Västsvensk Konservering has long experience of working with religious objects and the processing required to work with objects belonging to the church. Feel welcome to contact us for free advice and support in religious cultural heritage issues.
You can also turn to us for help in carrying out different tasks and drawing up documents required for permits, as well as performing conservation or restoration measures on fittings, buildings or graveyards:
Digitization of the inventory list in SACER
An updated list of objects is vital. We can help you to set up your inventory in SACER, e.g. in conjunction with a care and maintenance plan, or as a single task prior to this.
Care and maintenance plan
A care and maintenance plan aims at conserving important cultural and historical values and providing a good overview of the condition of a collection of objects. It contains a detailed record of any damage and recommendations for actions within the framework of a timetable. Planning of maintenance and long-term management is thus made easier. An up-to-date inventory, preferably digitized in SACER, is required to organise the work.
Action program for conservation
The action program is used as a supporting document for a permit application with the County Administrative Board and an application for a religious cultural heritage grant (KAE) from the diocese. The action programme lists the materials and methods to be used for conservation and when it will be carried out, and contains:
Photographic documentation
A list of any damage
Options for analyses of materials
Recommendations for measures to be taken
Custom storage solutions
Well-adapted storage can prevent future damage to church property, which could be expensive. Every church has its specific needs and conditions for the storage of valuable objects such as silver, textiles and books.
Studio Västsvensk Konservering can draw up individual, customised storage solutions for every church. We visit you to study your particular conditions/needs/preferences and then make a proposal for special storage for your valuable objects. We then produce drawings and contact known carpenters and other craftsmen.
Management agreement for religious objects
Regular maintenance and day-to-day care of objects is critical for their general condition and lifetime. Studio Västsvensk Konservering can help you to draw up routines for recurring practical tasks, or perform them if you prefer. A care agreement with Studio Västsvensk Konservering may contain:
An annual review
Cleaning of objects
Washing of textiles in use
Cleaning of textile storage room
Polishing of silver objects
Protected by law
Church buildings, church rooms, church fittings and graveyards are protected by the regulations in Chapters 3 and 4 of the Cultural Heritage Act if they were built before 1940. This means that a permit is required from the County Administrative Board before any changes are made to the protected properties. You can also apply for a religious cultural heritage grant (KAE) to draw up inventories, care and maintenance plans and action programmes, and for conservation and restoration work. The Swedish National Heritage Board has produced a manual for ordering and performing conservation measures for religious cultural heritage objects, which you can find here.
Updated: 2020-10-14 13:25
Do you have a point of view or ask about the website?
---